Songs, Stages, and Seafood Festival – 2017!!
Songs Stages and Seafood Festival, May 24-28, 2017 Tickets are now on sale.  See a list of events with entertainment below! To purchase tickets Call 709-786-2126, 709-683-6377 Email SeafoodSongs@bayroberts.com
Wednesday, May 24, 6:00pm – "Salmon Dinner" – Kelly's Landing SOLD OUT
Official Opening of Songs, Stages and Seafood Festival.
Thursday, May 25, 6:00pm – "Hooked on Local" Shearstown Community Centre $25.00
An evening of food and entertainment! Join us as we profile the local seafood of our region. Enjoy a seafood chowder, fish cake, crab, mussels, smoked salmon and other offerings from the sea. ( All the seafood is sourced from Newfoundland and Labrador ) Food stations will be set up throughout the hall.
Special Musical guest for the evening is Lloyd Snow!
Friday, May 26, 7:00pm – "Small Plates Evening" Royal Canadian Legion $65.00
Enjoy eight "Small Plate" courses prepared by the province's top chefs.
Connemara will provide entertainment. SOLD OUT
Saturday, May 27, 10:00am – "Culinary Workshop" (FAMILY EVENT) Search and Rescue Building $20.00
Interactive hands on family event.
Saturday, May 27, 12 noon – "Experience the Sea Luncheon" (FAMILY EVENT) Shearstown Community Centre $25.00
Luke Welsh and Larry Foley will perform.
Saturday, May 27, 6:00pm – "Chef's Seafood BBQ" ( 19+ Event) Bay Arena $75.00
Doors open 5:30pm
You can book a table of 10 ! (You must have a full group of 10 to book a table)
An amazing evening of food, music, fun and friendship ! Start with bread, mussels and crab, then a 4 course meal including a delicious dessert, all prepared by top provincial chefs
Ceiligh, Newfoundland Celtic Irish Band and The Bishops, a St. John's-based Celtic-rock band, will be performing at the "Seafood BBQ".
Sunday, May 28, 1:00pm – "Toutons, Tom Cods & Tunes with NL Fish Cake Championship"– "Red Shed" at Pender's Hill on the Shoreline Heritage Walking Trail $25.00
Music by Fergus O'Byrne and Jim Payne.
Open competition of professional chefs and cooks. Participants will enjoy sampling fish cakes prepared by chef participants that will be competing for the title of NL Fish Cake Champion! You get to taste AND vote for your favourite!! Champion wins $1000.00 cash prize!! Added this year, 2nd place $500.00 and 3rd place $300.00!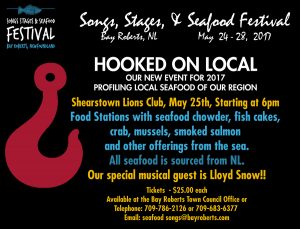 Sunday, May 28th, 7pm – "2nd Annual Bay Roberts Young Folk at the Hall, an Evening of Traditional Music and Song." Shearstown Community Centre, Main Road, Shearstown. Tickets $10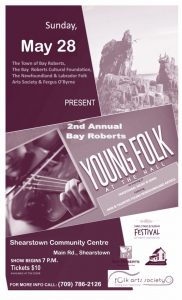 ---