Popular Festivals
The Holdin' Ground Festival 
The Holdin' Ground Festival celebrates Bay Roberts' Cultural Heritage each summer. It is named for Ted Russell's play about the bond between Newfoundlanders and their homeland. Ted Russell was born in Coley's Point and understood the ties that people of this province feel to their home communities. The festival commemorates everything that contributes to Bay Roberts as a "Holdin' Ground".
Klondyke Days
Klondyke Days, beginning with the Klondyke Parade, are held around the last week of July and/or the first week of August, ending with Bay Roberts Day, the Town's civic holiday, which coincides with the last day of the celebrations.
Fall in Love with Bay Roberts and The Pumpkin Festival
The Town of Bay Roberts offers a number of events during autumn, one of the most beautiful times of the year to visit the Town. Major events at the Visitor Information Centre include Pumpkin Fest (Pumpkin Decorating and Illumination), at the Community Gardens – Halloween Park and Lantern Tour and Bonfire Night, on the Shoreline Heritage Walking Trail – Toutons & Tunes and Thanksgiving Sunrise at the Red Fisherman's Shed, and Remembrance Day Services at the War Memorial Night.
Festival of Lights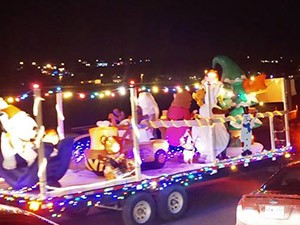 In 2012 Reader's Digest placed Bay Roberts as #8 on the list of the ten most festive communities in Canada! The Town of Bay Roberts enjoys one of the most extensive Christmas Celebrations in the province. A celebration of all things Christmas, the Festival of Lights is a collection of community events that celebrate the season. The Festival of Lights is a two time National Winters Lights winner. The festival hosts a large Nativity collection, a live Nativity scene, the province's first intelligent light park, as well as numerous other events. Bay Roberts boasts two Santa Claus parades, one in the daytime and one at night.
Songs, Stages, and Seafood Festival
The Songs, Stages and Seafood Festival celebrates the sea and our culture surrounding us.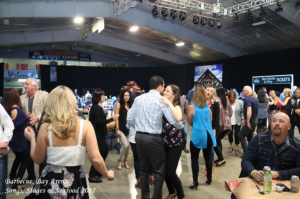 Our culture is certainly carved by the sea, in our words, music and in our food. Join us on a four day journey of discovery, featuring award winning chefs and traditional music designed to appeal to your senses; sight, smell, sound, touch and of course taste. From tastings, demos, workshops, contests, hiking, music and dancing, the weekend is truly an event you will not want to miss! For complete info, visit SongsStagesSeafood.com!
Winter Carnival
Winter Carnival is usually a three day event, centred around events at the Bay Arena that include a visit from Chomper, the Bay Roberts mascot, skating for various age groups, and a hockey tournament.
Community Events Links
Keep up-to-date by following us online!
Bay Roberts Cultural Foundation
Facebook.com/BayRobertsTown
Twitter.com/Town_BayRoberts