(l-r)David Gill, Catherine Downey, former Prime Minister Stephen Harper, Corey Morgan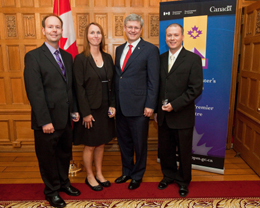 "Amalgamated Academy offers an education that is based on fairness, universality and accountability. We are committed to providing a learning environment which encourages the achievement of challenging goals. These goals have been developed by the entire school community, which has the responsibility to ensure they are met. Based on these goals, the school curriculum is designed to prepare students to be caring responsible members of society. We have a duty to prepare students for life in a global community.2013 by the Learning Partnership, a national charitable organization dedicated to championing a strong public education system in Canada."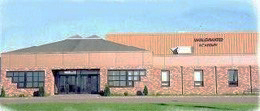 In 2011, three teachers from the Amalgamated Academy in Bay Roberts, Catherine Downey, David Gill, and Corey Morgan won the Prime Minister's Award for Teaching Excellence.
21 Eric Dawe Drive

, P.O. Box 460