Waste Management/Recycling Schedule
Garbage Collection Zones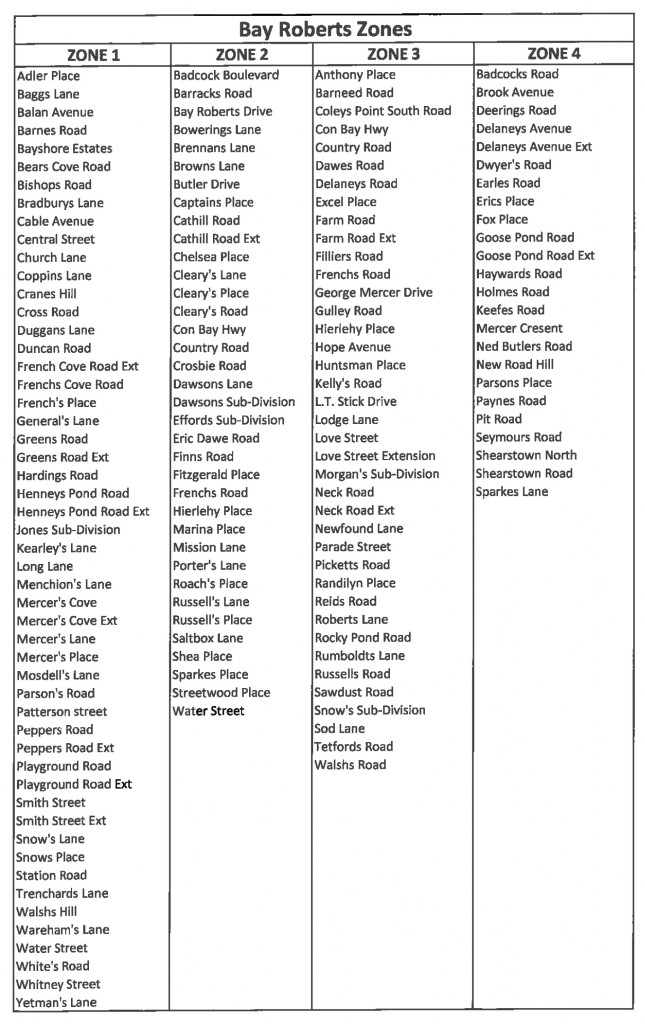 Household Hazardous Waste (HHW) Collection
Link to information about locations Spring of 2018 Household Hazardous Waste (HHW) Collection >>
Garbage Collection Schedule
The Public Works Department is responsible for garbage collection from residential dwellings that are within our municipal boundaries. The Town of Bay Roberts will pick up and dispose of domestic garbage and curbside recycling at a suitable site on a regular weekly basis according to the 2018 Garbage & Curbside Recycling Schedule. This schedule may change because of holidays, inclement weather, breakdowns and other unforeseen circumstances. However, every effort will be made to revert back to this schedule as soon as possible. Changes will be posted on the Town's website and/or telephone answering system. Empty receptacles and/or containers (other than permanent garbage boxes) as well as material refused for collection shall be removed from the streets by the householder before 8:30pm on the same day as the garbage was placed for collection.
2018 Garbage and Recycling Collection Schedule
Garbage Collection Regulations
General Regulations
Easy access to garbage boxes shall be provided by property owners. Snow and other possible obstructions shall be removed by property owners. Failure to do so may result in garbage not being picked up.
Containers shall not be put out for collection except on the day designated for collection in the area.
No person or persons shall permit any animal owned by him/her or under his/her control to pick over, interfere, disturb, remove or scatter any material placed out for collection.
No householder shall put out for collection more than five (5) containers or their equivalent for collection by the Town on any one collection day.  Each container or bundles shall not weigh more than 18.2 kilograms (40 pounds).
No person, other than the employees of the Council, or their designate, authorized for that purpose, shall pick over, remove, disturb or otherwise interfere with any garbage or refuse placed for removal by the Council whether or not it is enclosed in receptacles or containers.
Storage and Disposal
Every householder shall at their own expense make adequate arrangements for:
The storage of garbage in receptacles that are impervious to animals.
The disposal of any material not collected by the Town as referred to in Section "13" herein, whenever sufficient quantity to warrant such disposal is accumulated.
Suitable Containers
Every householder shall provide suitable containers for garbage and refuse. Please note:
Containers which are non-disposable (permanent garbage box) shall be maintained in a good state of repair and in a sanitary condition.
No person, firm or corporation shall deposit, throw, sweep or place any garbage upon any street, lane, drain, public place or private property outside of buildings within the Town unless the same is enclosed in approved watertight containers provided with handles and a cover and being of a capacity not exceeding ninety litres, or in large polyethylene or similar waterproof bags securely tied.
Every person, firm or corporation being the owner of a building or buildings and premises within the Town shall provide approved containers as mentioned in the preceding regulations for the use of such building or buildings and premises for the reception of garbage, and all garbage from such building or buildings and premises shall be placed in such containers.
Types of Containers
A suitable container shall mean:
A standard metal garbage container or a container of other substantial material approved by Council. Each container, with the exception of polyethylene bags, shall have a content capacity of not less than twenty-five (25) litres (5.5 gallons) and a minimum size of 66 cm x 91 cm (26 in. x 36 in.).
A suitable container shall also mean a polyethylene garbage bag (but not include small plastic bags commonly referred to as supermarket or shopping bags), kitchen catchers or cardboard cartons.
A polyethylene garbage bag shall have a material thickness of at least one and one-half (1 ½) mil.
No liquids shall be deposited or placed in a polyethylene garbage bag for collection.
A polyethylene garbage bag placed for collection shall be securely tied or closed at the top.
Garbage containers shall be kept covered and in a sanitary condition at all times.
Subject to Regulation 9, no person, firm or corporation shall deposit, throw, sweep, or place any refuse upon any street, lane, drain, public place or private property outside buildings within the Town unless the same is enclosed in boxes, barrels or other proper receptacles in such a manner as to in no way constitute a nuisance or annoyance to others.
Soot and Ashes
The householder shall place soot and ashes in plastic disposable water proof bags securely tied and marked as "Soot".
Place for Containers
Garbage containers shall be placed for collections in front of the premises at the curb or street line.
No container may be placed on Council property, road right of ways, or easements without the written permission of Council.  Such containers may be removed by Council without notice. Council may charge the owner for removal and storage of the containers at a rate of $70 per hour with a minimum of 1 hour charge for collection. All containers not retrieved by the owner within 14 calendar days from the date removed by the Town will be destroyed with the related costs of collection and storage billed to the owner if an owner can be identified.
Materials Not Collected
The Town does not collect:
Swill, liquid waste or other organic matter which has not been properly drained or wrapped.
Highly combustible or hazardous material, such as oil, or gasoline soaked rags, gas containers, propane cylinders, paint, pesticides, ammunition, dynamite, or other explosive matter, chemicals, acids or their residues, derivatives or by-products.
Trade Waste as defined in Section 2 (d) of these regulations.
Garbage or refuse which has not been placed for collection in the manner provided by these Regulations.
Rubber tires of all sizes must be dropped off at the designated Tire Recycling Compound or sites. Only tires not accepted for recycling are permitted to be disposed of at the Landfill site.
Garden Waste as defined in Section 2 (j) of these regulations.
Sheet iron, scrap metal, car bodies.
Carcass of any animal.
Garbage or refuse left by a contractor, upon any street, lane, drain, public or private property.
Sharps/needles/broken glass that have not been adequately packaged. Sharps/needles must be placed in a puncture proof container before being put in the garbage. Broken glass must be packaged in such a manner that the glass does not protrude through the container. The container must be marked "BROKEN GLASS".
Construction Waste as defined in Section 2 (g) of these regulations.
Demolition Waste as define in Section 2 (h) of these regulations.
Removal Orders
Notwithstanding anything contained in these regulations, the Superintendent may at any time order the owner to clean up and remove any accumulation of garbage or refuse outside any building or buildings or on any other private property within the Town.
If the owner neglects or refuses, when ordered by the Superintendent to clean up and remove any accumulation of garbage or refuse from his premises, the Superintendent may cause the clean-up and removal of such accumulation at the expense of the owner.
Composting
Composting means the storage and controlled biochemical of vegetables, fruit or garden waste.
All composting must be carried out in a suitably maintained container which may be commercially or owner constructed and which must be rodent proof and properly vented.
All composting must be carried out in such a manner as not to attract rodents, flies, or animals nor to cause an unpleasant odour and shall be maintained so as not to be a nuisance to neighbouring properties.
Composting containers shall be located in the rear yard no closer than 2 feet to a lot line.
Nothing in this regulation prohibits composting carried out in accordance with this section.
The Town also operates a Community Compost facility for certain types of Garden Waste.