Clubs and Organizations
Bay Roberts 50+ Club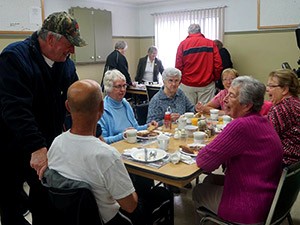 261 Water Street
Bay Roberts, NL A0A 1G0
The 50+ Club supports activities for people over the age of 50. There are 80 members.
Presently, the club hosts a euchre game each Tuesday night at 8:00pm, a card game each Wednesday night at 8:00pm, a crib game each Saturday at 1:00pm, and an afternoon tea and bake sale on the third Thursday of each month. They also sponsor afternoon teas and breakfasts during the Festival of Lights in the winter and during Klondyke Days each summer.
The variety of activities extends to include barbeques, horseshoes and dances which are held at the 50+ Club facility, while activities such as bowling, water aerobics and walking take place at other locations.
Another exciting aspect of being involved in the 50+ Club is the organized trips for members. Some locations the Club has visited in the past include the Trinity-Bonavista area, Woody Island, and St. Pierrre-Miquelon. Those members who do not attend large trips often attend outings to St. John's, dinner theatres, etc.
Girl Guides of Canada
Girl Guides of Canada has been established in the town of Bay Roberts for approximately 35-40 years. It usually runs from the months of September to May. It is open to all girls of ages 9-12 years. They usually meet once a week.
Sparks is the youngest group of Girl Guides – grades K and 1, meeting Monday nights from 6:00pm – 7:00pm at the Central United Church Hall in Bay Roberts. Brownies are grades 2 and 3, meeting on Tuesdays from 6:30pm – 7:30pm.
Registration starts for new members in June and you must register on the Girl Guides of Canada web site. The cost is $75+$4 fee, you can also buy a uniform at that time, along with a shirt, scarf and sash. There are a number of outings through out the year including camp. Girl Guides earn badges about the environment, health and fitness and other places in the world. If you would like to know more about this program, please contact:
Janet Mercer
janetmercer@nf.sympatico.ca
Dashin Schomberg
Loyal Orange Lodge No. 45
Neck Road
Coley's Point, NL A0A 1G0
t: (709) 786-6615
The Orange Lodge has been active in Canada for over 200 years, making it the oldest fraternal organization. In Newfoundland today the Orange Lodge is a fraternal and benevolent organization. Lodges are centres for recreational activities.
The Helping Hand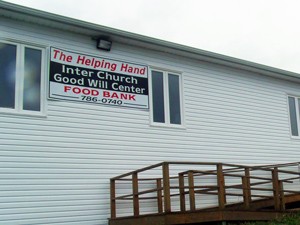 The Helping Hand, located on Patterson Street in Bay Roberts, is a Goodwill Center and Food Bank. It sells clothing for men, women, children and babies, and various household items. Donations are accepted on-site.
t: (709) 786-0740
facebook.com/thehelpinghandBayRoberts
The Bay Roberts Lions Club
Bareneed Road
Bay Roberts, NL A0A 1G0
t: (709) 786-6881
lionwap.org/eclub/sites/BayRobertsNL
The Lions Club of Bay Roberts and the Lions Club of Shearstown have carried out a number of important activities. The Bay Roberts Lions Club, which was formed in October 1961, later chartered the Shearstown Club, which is also within the municipality. The Lions Club built the Lions swimming pool. The Club also sponsors the Santa Claus Parade, the Bay Roberts swim team, and Senior Citizens Day. They also donate to the Lion Max Simms Camp for the Handicapped located in Bishops Falls.
Bay Roberts Masonic Lodge (Lodge Mackay)
No. 1129
Lyle G. Marshall, Master
Conception Bay Highway
Bay Roberts, NL A0A 1G0
t: (709) 786-3252
The Masonic Lodge of Bay Roberts (Lodge Mackay) is located on the Conception Bay Highway. As a fraternal organization, it has existed in Bay Roberts for over 80 years. At present there are approximately 100 members. The members meet every second Wednesday during the months of October to May.
Royal Canadian Legion Branch #32
Water Street
Bay Roberts, NL A0A 1G0
t: (709) 786-2075
canadianlegion32@yahoo.ca
rclbranch32nl.ca
The Royal Canadian Legion is an important organization within the community. The Legion Club with its attached Veteran's Quay Marina is one of the most attractive facilities in the community.
2018 Legion Branch 32 Executive Committee:
2018 Legion Branch 32 Executive Members: President – Comrade Ross Petten,Immediate Past President – Comrade Robert (Bob) Mugford, First Vice President – Comrade Wallace Babcock, Second Vice President – Comrade Gene (Chipper) Bursey, Treasurer – Comrade Tom Harris, Secretary – Comrade Harold Brown, Chaplin – Father Paul Thoms, Assistant Chaplin – Comrade Gus French, Sgt At Arms – Comrade Gordon Mercer, Service Officer – Comrade Eric Mercer Sports – Comrade Thomas Coombs,Ways and Means – Comrade Eric Loveless, Membership – Comrade Ernie Mugford, Public Relations – Comrade Wallace Babcock, Member At Large – Comrade Frank Hawe, Member At Large – Comrade Jacob (Jake) Collins
Society of United Fishermen (SUF)
Dawe Lodge #82
Patterson Street
Bay Roberts, NL A0A 1G0
The Society of United Fishermen, Dawe Lodge #82, was first established in Bay Roberts in 1873. The Society, which exists across the province of Newfoundland, was formed to assist fisherman and their families in times of need and has been known for its generosity.
Royal Canadian Army Cadet Corps
2372 Avalon North Army Cadet Corps
Cadets is a national program for youth ages 12 to 18. The Cadet Program promotes teamwork, leadership and citizenship, develops decision making skills, and increases self-confidence and physical fitness. The Bay Roberts Army Cadet corps offers many opportunities to participate in marksmanship, biathlon competitions, weekend outings, band and much more.
For more information please contact:
Lt. Melanie Snow, Commanding Officer
t: (709) 786-4152 or
t: (709) 786-6401