Adam Blanchard is the Chef and Owner/Operator of Five Brothers Artisan Cheese. Adam was born in Carbonear, Conception Bay North. He studied at the Culinary Arts Institute of Canada at Holland College's Tourism and Culinary C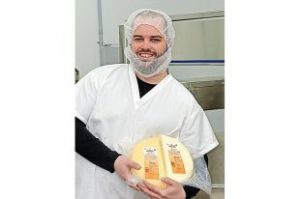 entre in Prince Edward Island. During this extensive two year program, Adam worked at excellent restaurants both on PEI and during his internship in Toronto. During his time in at Pangaea Restaurant in Yorkville, Toronto, that Adam became interested in cheese.
The man behind Five Brothers Artisan Cheese — like many St. John's entrepreneurs — started small, making cheese on his stove top for the St. John's Farmer's Market five years ago. He saw a gap in the local market for his product, and built his business first into a small place on Cashin Avenue and is in the middle of renovating a location by Bidgood's Plaza in the Goulds with a 1,000-litre milk vat where he produces white gold for local restaurants.
Asked if he envisioned building the business to where it is now, Blanchard says he knew there was potential.
"I knew it wasn't going to be an easy process by any means; I knew there was going to be a lot of legwork with anything," he told The Telegram recently at the Goulds building, an electrician working on wiring an expansion to the business. "You've got to put the effort behind it. There's been ups and downs like any business, no doubt about that. But my motto has always been just take it one day at a time, keep going. While you have a vision, you don't know what's going to happen the next day. This is where I'd hoped to get eventually."
Five Brothers also last year began supplying Mile One's cheese needs, right down to the curds on the poutine scarfed down by IceCaps fans.
"I got ahold of the food and beverage manager in August at Mile One, and we just had the conversation," he said. "And lucky enough they were all about it. I walked out that same day, took no more than 15 minutes, and it was, 'All right, we'll draw up the contract and go from there.'"
Blanchard said it's great to see big operations looking for local suppliers.
"When I go into a restaurant or a place and they've got cheese curds, easy example, they're using them for poutine or whatever, my question is, 'We can offer a better product at a competitive price — why would you want to have to order so much in to have it sitting in your freezer, when we're just down the road? We can drop down any day you need.' It comes back to what I spoke about with local produce, local food, and just the sustainability. If the boat shuts down for two or three days and all your curds are on that, you know? It's going to be a little bit of trouble." (Daniel MacEachern Published on February 28, 2016)
Five Brothers Artisan Cheese in 2012 became a member of the Dairy Farmers of Canada and uses 100% Newfoundland milk.
Adam and Five Brothers has participated in Roots, Rants and Roars (Elliston, Newfoundland), Eat The Hill (Clarenville, Newfoundland), Canadian Cheese Grand Prix (Montreal, Quebec) Taste of North America Wine Show and at the Great Canadian Cheese Festival (Picton, Ontario).
Five Brothers Artisan Cheese is available at Belbin's Grocery, Water St. Variety, Rocket Bakery and  Powell's Supermarket, Bay Roberts.