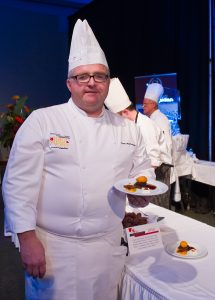 Roary MacPherson is the chairperson of Sysco Food Service, Mt. Pearl.
He also has a show on Bell Aliant, 'Chef Roary's Showcase',  which is now international.  Recently a taping was done here in Bay Roberts. "International Culinary Fusion" event was held at Shearstown Community Centre. Proceeds were donated to the school lunch program.Under the the direction of 'Chef Roary Macpherson tasting stations were set up, each having a local chef (NL) and a chef from Trinidad. The two chefs served food that has been 'fusioned' from both their cultures!
Chef Roary was Executive Chef at the Sheraton Hotel Newfoundland from 2003-2016.   He is Five Time James Beard Foundation presenter, 2 time culinary Olympic competitor once with a bronze medal, twice Gold Medal Plates St. John's bronze medal winner, Good Food Innovations award for Food day Canada 2012 , 2011 Best menu award for Food day Canada , Roary is no stranger to competitions both local, national and International . In 2005 he represented Canada in the 1st Canada vs. USA cook off at the international culinary tourism conference in San Francisco, where as a member of a three person team they won gold. Roary has worked all across the country and continues to be a proud Newfoundlander !